Farm Fresh Coffee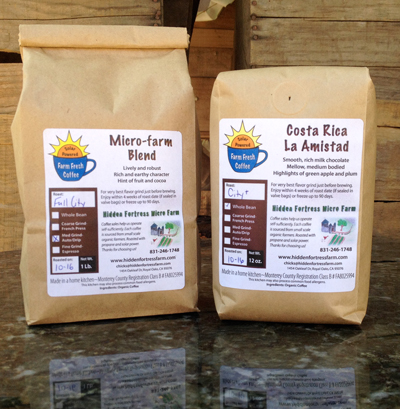 Small Batch & Eco-Friendly Roasting
Roasting it locally to reduce transport and packaging costs helps build a stronger local economy. Your purchase provides a valuable source of revenue and keeps more of your coffee dollars in the local economy.
We roast organic fairly traded coffee, produced by small scale micro farmers who often do all of the processing by hand or with Co-op facilities in their own community. Each variety is roasted to its optimum flavor, which is indicated as our standard roast. We can also roast to your custom preference with a minimum order of two pounds.
Freshly roasted coffee stores well in the freezer for up to 3 months, if in whole bean form. Ground coffee is best enjoyed within a few days of grinding, or within a few weeks if stored in the freezer. Whole bean coffee will be delivered unless you request it ground.
Current Micro Farm Roasted Offerings
Visit our new coffee website to place an order: Hidden Fortress Coffee Order Page. You will find our complete selection including our newer coffees on the new site. There are more order and delivery options too. Check it out!
Packaging options
All of the coffee bags we use to package our coffee in are biodegradable! Freshly roasted coffee is at its best if enjoyed within one week from the roasting date unless it is packaged in protective bags such as the biodegradable valve bags we offer below, or stored in the freezer. By freezing or packaging in valve barrier bags, the optimum freshness will last up to six weeks.
Compostable tin-tie bags:
These bags can be composted in a home compost. Simply remove the wire tab (and recycle it), and toss the bag in your compost pile, where it will break down just as quickly as a paper grocery bag. All orders for local delivery are packed in these bags unless otherwise requested.
Biodegradable valve bags:
These bags are made from 100% biodegradable materials, including the plastic valve. This special one way valve allows the C02 and other gasses that are normally emitted from fresh roasted coffee to escape without allowing any oxygen into the bag. This packaging preserves the fresh roasted flavor for weeks instead of days, and this protection lasts until the bag is opened. All orders that are shipped are packed in these bags unless otherwise requested.
Wholesale
We offer wholesale pricing to licensed retailers and restaurants. Please contact us for a wholesale price list. Our wholesale terms are payment at delivery, and we do offer a small discount for subscriptions paid at the start of each monthly delivery cycle. Delivery is free to wholesale customers in Santa Cruz county.