Our Farm Fresh Farmer's Market Coffee Bar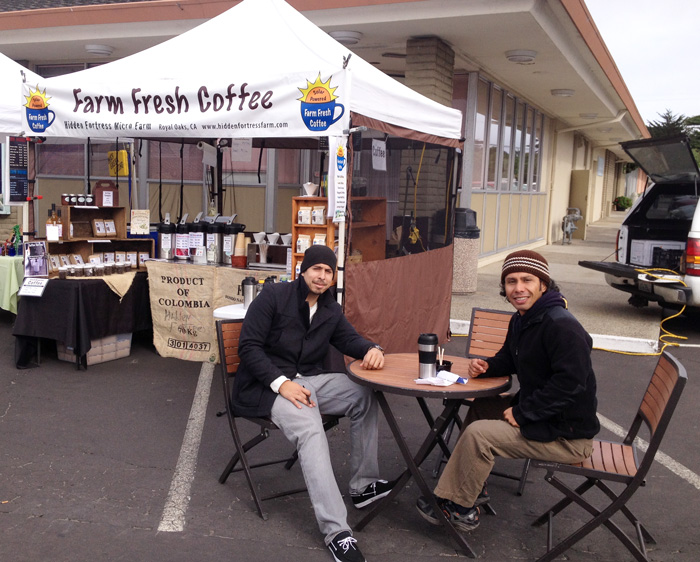 When we say farm fresh, we mean it! Come visit us at our coffee stand to experience our coffee, brewed fresh on the hour. We regularly serve at the local farmer's markets listed below. We also occasionally bring our unique coffee bar to festivals and special events. Our coffee operation is entirely solar powered. We have a mobile solar generator (mounted on the farm's pickup truck) that provides power for our coffee bar. Our coffee roaster, located at the farm, runs on propane and solar power.
Find us at these Farmer's Markets!
Boulder Creek: New Time! Thursdays 2:30-6:30 (Seasonal: April through November) BCFM Facebook Page
Felton: Tuesdays 2:30-6:30. (Seasonal: May through October) Felton farmer's market website
Marina: Sundays 10-2. Marina farmer's market website
Pacific Grove: Mondays 3-7. Pacific Grove farmer's market website
Scotts Valley: Saturdays 9-1. (Seasonal: April through November) Scotts Valley farmer's market website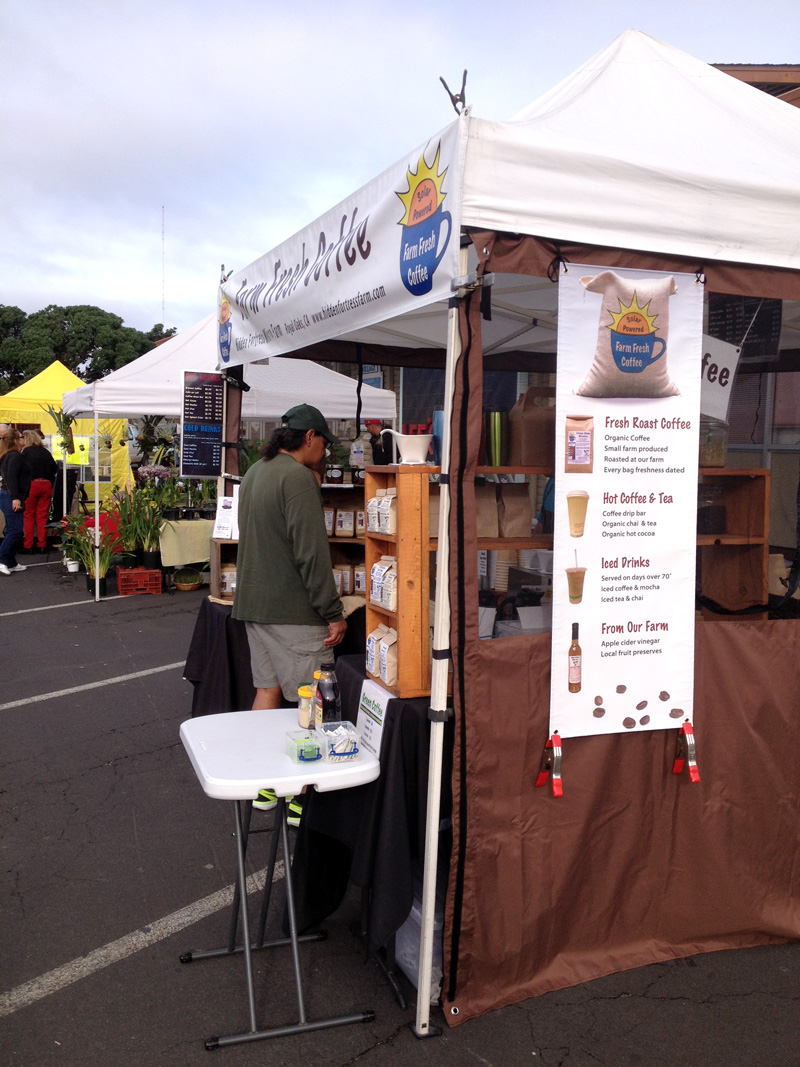 Fresh Roasted Coffee & More From Our Farm
Coffee: We roast fresh coffee several times a week so you will always find a good selection of bagged coffee for sale at our booth. All coffee is offered in 12 ounce bags in whole bean. We also have a rotating selection of 6 ounce bags if you want to try just a little. Of course you can buy a cup of fresh brewed coffee to enjoy at the market too!
We can grind coffee for you at market. Because we have limited power with our solar generator, the mill we use at market is small and a 12 ounce bag can take up to 10 minutes to grind. If you always buy your coffee ground, you can place an advance order from our coffee order page and pick it up at the market of your choice. If you live in Santa Cruz county, you can also opt for free delivery to your home.
Tea: We have a lovely tea bar with a selection of organic teas we can brew by the cup. Some teas are also available to purchase bagged. Our tea inventory is limited, so we only sell bagged tea when we have a surplus. One of our tea suppliers is Our Sweet Earth, who also has a stand at two of the markets we do. When we are both at the same market we refer loose tea sales to them so we are not competing with each other!
Cocoa: By popular demand, we have bagged our popular hot cocoa mixes for sale at the market! Made with organic cocoa, sugar, & milk, these are the same mixes we brew our hot cocoa with at market. More chocolate and less sugar! We have a traditional mix, and a "Coco Cocoa", made with coconut milk powder and coconut sugar.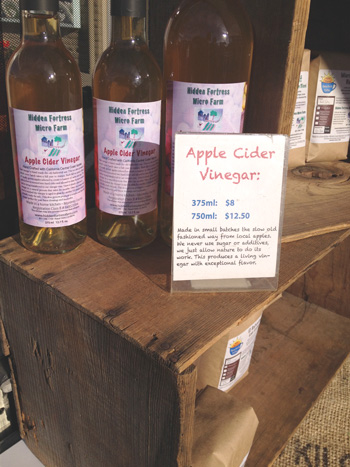 Hand Crafted Preserves: We make our jams and conserves without added pectin. Our recipes require more fruit per jar, resulting in a wonderful, rich preserve with lots of flavor. We use local organic fruit, organic sugar, and lots of love! All our jams are small batch produced, so the available selection changes often and tends to follow the fruit seasons here in central California.
Vinegar: Our vinegar is made in small batches the slow old fashioned way from local apples. We never use sugar or additives, we just allow nature to do its work. This produces a living vinegar with exceptional flavor. Because our production is very small scale, we often sell out between batches, so this is not always available at market.
Muffins: We bake a fresh batch of the customer favorite sourdough English muffins once a week. They are the perfect showcase for our preserves. Will we have any left for you? If you don't want to chance it, you can always order in advance.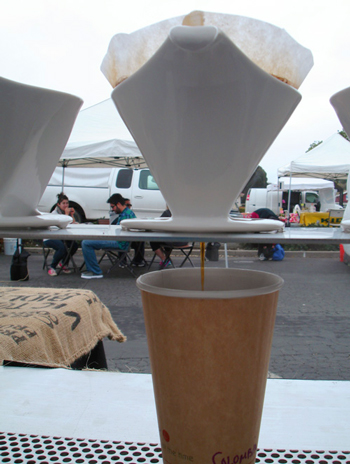 Coffee Bar Hot Drinks
Brewed Coffee: We hand pour the brewed coffee we serve at market, directly into airpots. The hot water does not travel through plastic lines, so nothing comes between the filtered water and the taste of our fresh roasted coffee! We usually serve up a rotating selection of our blends, decaf, and a sprinkling of single origin coffees. Served in 8 oz. and 16 oz. sizes.
Pour-over bar: Made one cup at a time, each cup is ground and brewed to order, strong and as fresh as it gets. Choose any of the coffees we are currently selling. A great way to try a cup before you buy a bag! Served in 8 oz. and 16 oz. sizes.
Hot cocoa & Tea Each cup brewed to order from our fresh selection of organic loose teas and our house mix hot cocoa. We also brew fresh chai, served with the milk of your choice.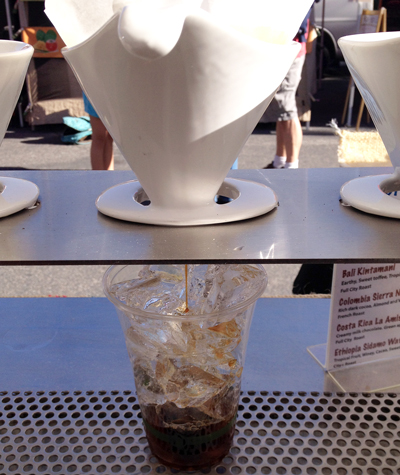 Coffee Bar Iced Drinks
Iced drinks are served March through November, or whenever temperatures rise above 70 ˚F.
Iced Coffee: Made with fresh brewed coffee, mixed to order as you like it.
Pour-Over Iced Coffee: Possibly the best iced coffee on the planet! You know how good coffee smells just after it has been ground and while it is being brewed? Those aromas are volatile oils and compounds escaping with the steam. Most are lost in the first few minutes. By brewing the coffee directly onto ice, more of that fresh aroma makes it into your cup.
Iced tea & more: Iced chai with almond milk is a customer favorite. We also serve traditional iced tea, and sometimes others such as hibiscus citrus or green tea with honey. On really hot days when we can get locally grown lemons we also make and serve fresh squeezed lemonade.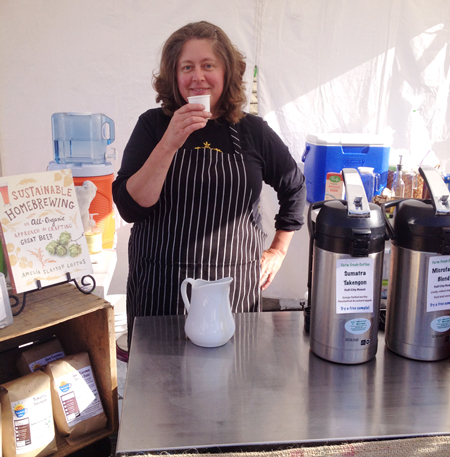 Coffee & Conversation
As a small start up business owner, I work almost every market in addition to roasting up all that fresh wonderful coffee and making the other treats we sell. Not to mention all the chicken tending and egg washing I do at the farm! I love producing really high quality healthy food, and I work hard at it. I'm always happy to chat as long as I'm not too busy. Stop by for a coffee and conversation, out in the fresh air of a local market!