Micro Farm Produced Goodies For Sale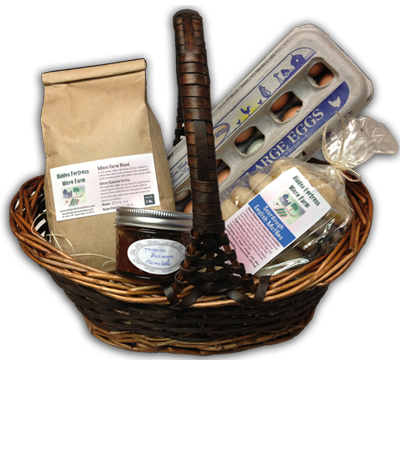 Micro-farm produced pasture raised eggs, organic tree fruit, and fresh kitchen garden herbs are our crop specialties. Here on the farm we also make fruit preserves, hand crafted apple cider vinegar, and small batch fresh roasted coffee.
Breakfast Baskets:
Our most popular things all have to do with breakfast: Eggs, coffee, and hand-crafted preserves. Get them all in a delicious breakfast basket. What could be better!
Subscribe to a bi-weekly delivery and never run out of easy and delicious breakfast treats. These make a wonderful gift also, try it instead of flowers for Mother's Day, Valentine's Day, or as a truly unforgettable Thank-you gift! Each basket includes a 12 ounce bag of coffee, one dozen large farm fresh eggs, and an 8 ounce jar of fruit preserves. Delivered in a tasteful brown shopping bag, order it packaged in a gift basket with cellophane wrapping and a card for $10 more.
Free Goody Bag Delivery Service To Santa Cruz Area Customers:
Orders over $20 are delivered for free on our regular delivery dates and routes. Orders for local delivery can be placed from our local order page. You can also have coffee, preserves, and vinegar shipped for as littles as $5. Please e-mail us to arrange any other type of delivery.
Santa Cruz: We deliver to all locations within the cities of Santa Cruz, Capitola, Soquel, Aptos, Scotts Valley, Felton, and Watsonville plus anywhere else within 2 miles these cities. In addition we will deliver anywhere within 2 miles of Highway 1 in Santa Cruz county, within 2 miles of Highway 17 between Santa Cruz and Scotts Valley. Deliveries are every Thursday, except for major holidays.
Deliveries to outlying areas: Boulder Creek, Bonny Doon, Corralitos, etc. are free with a $30 order. Smaller orders to rural addresses require a delivery charge of $5.
How to Order:
Please place your order no later than 5 pm on Tuesday for Thursday delivery. Some items might sell out before this order deadline, so order early for the best selection! There are 3 ways to order:
Place an order on our website for the items you want. Our local order page is the easiest way to do this. Choose local delivery. You may also subscribe to regular delivery of your favorite items!
Order by e-mail . Simply send us a quick note with what you want, and payment will be due at delivery. If requested we can send you an invoice to pay before delivery if you will not be at home.
Order by phone. Call 831-246-1748 between 9 and 6 Monday through Saturday. You may prepay with a credit card or pay at delivery.
Farm Fresh Eggs and Other Goodies




Our eggs, and the fact that we love chickens, are what made us decide to start farming for a living. We also "farm" on a micro-biotic scale by working with fermented foods. Our artisanal apple cider vinegar is the signature product of our fermentation farm. Check out the Goodies list!

Micro Farm Fresh Roasted Coffee

Organic coffee fits well with our theme of high quality, artisanal foods that are farmed by families on a small scale. Roasting coffee is an important income source that helps us to grow and improve our farm without going into deep debt. All of the coffees we sell are grown by small scale farmers in coffee producing regions. We put our many years of coffee roasting experience to good use by roasting in small batches with our propane and solar powered roaster.

Each individual coffee is roasted to its optimum flavor, which is indicated as our standard roast for the variety. We can also roast coffee to your custom preference with a minimum order of just one pound.

Most of the coffee we offer is single origin, meaning it is unblended and comes from one farm or group of neighboring farms. Because most coffee farmers harvest on a seasonal basis, the types of coffee we have available will change from season to season. This means we might not have a favorite coffee of yours year round. But rest assured, we will always have some wonderful options to choose from!

Browse our current coffee choices right here!

Fresh Fruit, Herbs & Other Produce




Our fruit trees are still quite young so it will be a few years before we see bountiful harvests. The small quantity we currently produce is mostly used in our fruit preserves and to include in our subscriber baskets. As the years go by we hope to offer more fruit. When we have surplus for sale you can find it on our local delivery order page.

We also maintain an herb garden and always have fresh cut herbs like rosemary, thyme, sage, & oregano for sale. We are always trying new crops, so in years to come we hope to have things like lemongrass, kaffir lime, and fresh bay leaves as well.

We grow a few other things here on our own farm, although much of what we grow is eaten by our chickens so they lay the highest quality, vitamin rich eggs. Sometimes we do have a surplus which goes to our subscribers or is offered on our local order page when available.Last year we had a bumper crop of heirloom tomatoes, and sometimes the peppers are eggplants do well.

Fruit Preserves From Our Cottage Kitchen




Jams, conserves, marmalades, and other fruit preserves are a way to enjoy the bounty of the fruit harvest all year long. They also happen to go perfectly with our English Muffins! We make small batches with fruit grown here in central California. What is available changes often! We always work with what is in season and delicious. Vist the preserves section of our local order page to see what is currently available.

Hand Crafted Apple Cider Vinegar




Our vinegar is hand made the old fashioned way. It is a slow process in which every batch takes a full year to mature. Each fall we press a blend of locally grown apples selected to create a balance of sweet and tart. The juice is first fermented into hard cider and allowed to clear for three months before being transferred to our vinegar vats. There it slowly converts to vinegar in a natural process that takes six months. Once the proper acid level is reached the vinegar is aged in glass with oak for another 3-6 months before it is finally ready for sale. This slow process produces a complex and flavorful vinegar perfect for your finest dressings and marinades.

Vist the vinegar section of our local order page to see what is currently available.