Local Delivery Quick Order Page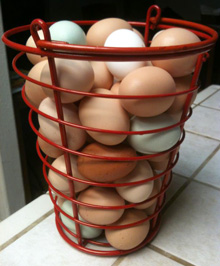 We Deliver to Santa Cruz County Locations Every Thursday Unless Otherwise Noted!
Please order by 5 pm Tuesday morning for Thursday delivery.
Free Delivery: Minimum order per delivery location is $50. A small delivery charge of $2.50 applies to orders under $50. Subscribers who subscribe at the $50 a month level or higher get free delivery.
Use this page to order online, call 831-246-1748, or
e-mail
us to order.
Use this page to order items for our regular local delivery. This page is updated with the items that are currently available. Order early to make sure we will have what you need! If you want the same items weekly or bi-weekly, consider signing up for a subscription. Subscriptions really help our farm plan better, will guarantee we set aside limited supply items like eggs for you, and saves you 10% or more over a la carte pricing! More info: local deliveries.
Farm Fresh Breakfast Goodies

Organic Farm Fresh Eggs

There is nothing quite like our farm fresh eggs from happy chickens who spend all day outside grazing on fresh greens, bugs, and organic feed. Our chickens are quite spoiled! They are free roaming (within the safety of our predator deterring fences) so they get to eat plenty of bugs and fresh greens. We give them organic feed and scratch, and provide fresh sprouted grains daily. Several times a week they also get vegetable scraps from our garden or nearby organic farms. They are so good we never have quite enough from our small flock of just 40 hens. Because availability changes from week to week we do not sell eggs via the internet—but we are always happy to deliver as long as we have them! Just give us a call or message us to order.

Current Prices:
1 Dozen Large $7.50
1 Dozen Medium $6.00
1 Dozen Small $5.00 (occaisonally available)


Sorry, we do not accept web orders of eggs at this time. Please call or e-mail us to order eggs

Farm Fresh Goose Eggs!

Our geese lay eggs only in the spring, so we just have these rare treats from February through June. These are fresh eggs from our silly, happy geese who spend all day grazing on fresh greens, and organic feed, chasing chickens around our pasture, and loudly honking whenever anyone comes near. A single goose egg is the equivalent of 2-4 chicken eggs. They are very rich tasting and splendid in omelettes and prized for baking. For a rare and exciting treat, try deviled goose eggs! Drill small holes in the top and bottom of each egg and blow out the contents and you will have a wonderful, strong egg shell for decorating.

Current Prices:
6-pack Large (150grams ea min) $12.00
1 large egg (150g min) $3.00

Sorry, we do not accept web orders of eggs at this time. Please call or e-mail us to order eggs

Organic Micro Farm Roasted Coffee, 12 ounce bags

Organic fairly traded coffee, produced by small scale micro farmers who often do all of the processing by hand or with Co-op facilities in their own community. Hand roasted to order in small batches with our propane and solar powered coffee roaster! Visit our coffee page for detailed information including prices and options to order 1 and 2 pound bags. Or, simply order a 12 ounce bag from this menu. We also sell green (unroasted) coffee. Visit our coffee page to order green coffee.

4 Pack Coffee Sampler: $25

A great way to try our most popular coffees. And all done up in a pretty package so it's easy for gift giving. The sampler includes four of our best coffees (single origin or blends). Packed in 6 ounce bags and with a brief description on each label. The selection may vary, but you can be sure we include our best, because we really want you to discover new coffees that you will love! In our sampler, each coffee is roasted to it's ideal level, so you will experience the full flavor of each variety included.
$25 for four 6 ounce bags, packaged in an attractive gift box

Produce from Our Farm

Produce From Hidden Fortress Farm

Due to the drought and the time limitations of a one woman operation, this year I have suspended growing most crops. This is so I can concentrate on keeping our herb bushes, fruit trees, and chickens as healthy as possible in a drought year. Thus, the only crops I am offering this year are eggs, herbs, and maybe tomatoes. Over the winter I'll try growing winter crops if we have some decent rains!

Fresh Organic Kitchen Herbs- Single Variety

Choose from: Rosemary, Thyme, Oregano, Lemon Balm, and Sage. $1.50 for one bunch

Fresh Organic Kitchen Herbs- Mixed Bouquet

Nothing beats fresh picked herbs to take your culinary creations to the next level! These herbs are available on a regular basis: Rosemary, Thyme, Oregano, Lemon Balm, and Sage. Selection may vary depending on the season and what is currently ready for harvest. $3 for one bouquet

Other Farm Products and Merchandise

Hand Crafted Locally Grown Apple Cider Vinegar

This vinegar is hand made the old fashioned way. It is a slow process in which every batch takes a full year to mature. Each fall we press a blend of locally grown apples selected to create a balance of sweet and tart. The juice is first fermented into hard cider and allowed to clear for three months before being transferred to our vinegar vats. There it slowly converts to vinegar in a natural process that takes six months. Once the proper acid level is reached the vinegar is aged in glass with oak for another 3-6 months before it is finally ready for sale. This slow process produces a complex and flavorful vinegar perfect for your finest dressings and marinades.

375 ml: $8.00
750 ml: $12.50


Stainless Steel Logo Mug

These are high quality Stainless steel mugs with the solar roasted logo laser printed in sunny yellow. The mugs are vacuum insulated double walled, stainless inside and out. The lids are BPA free plastic and have a silicone seal. $19, price includes applicable sales tax. Choose Blue or Green

Book: Sustainable Homebrewing

This is the book written by me, the Hidden Fortress Farm owner Amelia Loftus. It might seem out of place on a produce and coffee page, but I can and will deliver a signed copy with your farm fresh delivery order if you order it here! More info about my writing and the book can also be found on my author page. $18, price includes applicable sales tax and local delivery in Santa Cruz county.